The Milan Swiss Center redevelopment project concerns the renovation of the facades and the heating and refrigeration systems of the entire complex, consisting of a twenty-storey tower and a lower building located in Piazza Cavour, next to the Milan fashion district, in the center. The building which is based on a project by the architects Armin Meili and Giovanni Romano and created between 1949 and 1952, was a complex in free composition and a noteworthy architectural expression of the "Swiss School" of architecture during the post-war reconstruction years.
While the lower building picks up the adjoining buildings and defines, on a scale with the background, one side of Piazza Cavour with its front towards the public gardens of via Palestro, the tower-shaped building has been a significant landmark on the Milan skyline over the last fifty years. The Swiss Center is home to important Swiss institutions such as the Consulate General of Switzerland, the Societa' Svizzera, the Swiss Chamber of Commerce in Italy, Radio Swiss and the Swiss Tourism Office.
The work concerning the building envelope of the Swiss Center is aimed at improving the thermal / acoustic profile of the interior rooms and the energy performance of the building. This work consists of replacing the doors and windows while maintaining the original features. The "curtain wall" façade of the 19-20th floor will be replaced with a ventilated double skin solution, with a totally transparent outer skin, evoking the original lightness aspect of the original project by Meili. Restoration and cleaning of the marble tile facades was also carried out.
Plant work is aimed at streamlining in terms of energy and costs as well as improving environmental comfort. Cooling and heating was enabled through the installation of new multi-purpose heat pumps, whose operation involves the withdrawal of ground water through the construction of a system of three intake suction wells and three output wells.
SCE Project has been involved in the full service design (architectural, structural and MEPF) for the concept, developed, technical and construction design phases and in the construction management of the Swiss Center in Milan.
© Cristiano Bendinelli-Nano Production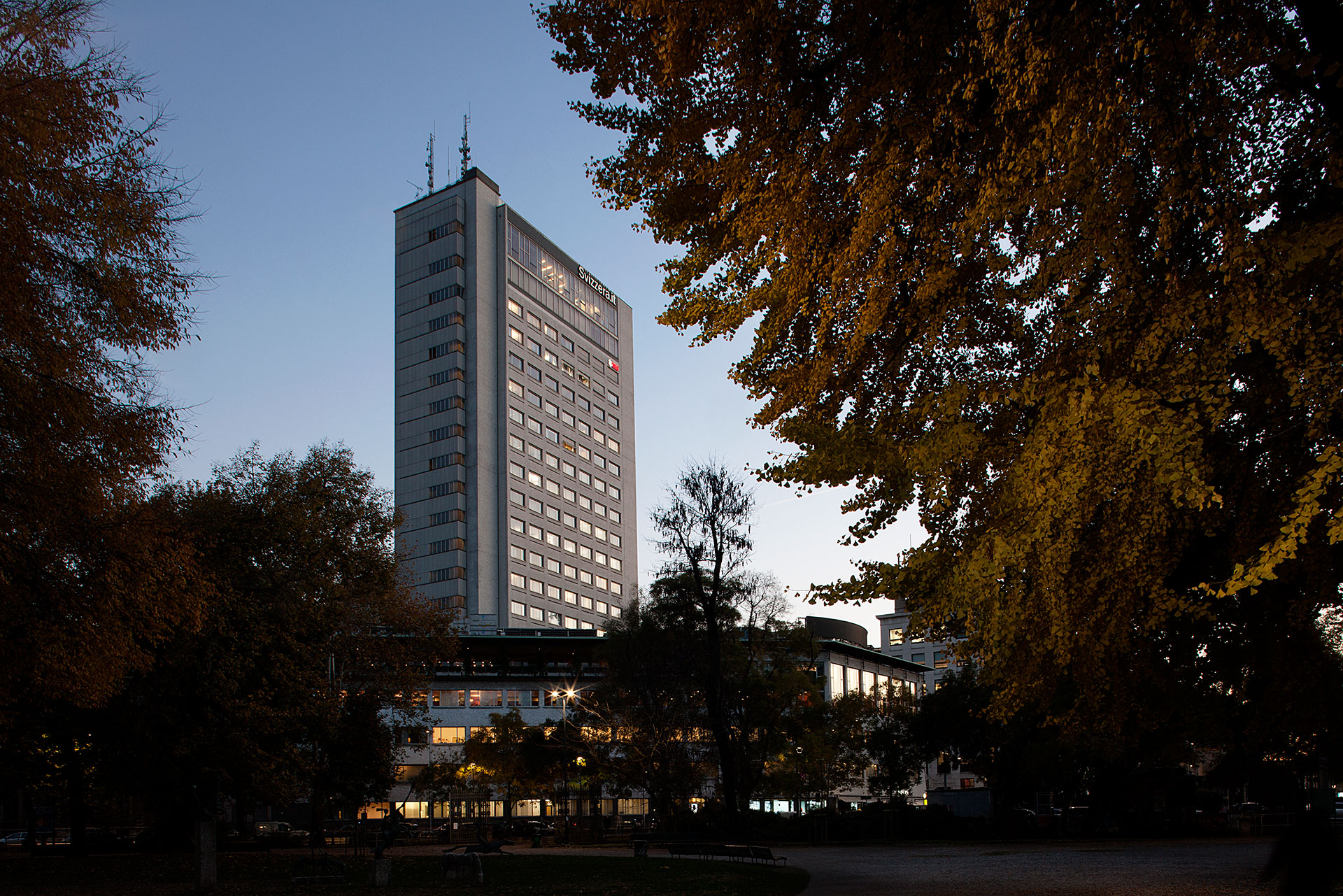 © Cristiano Bendinelli-Nano Production