Biomimetic Architecture and Its Role in Developing Sustainable, Regenerating and Livable Cities — Global Perspective, Approach, and Solutions in the Age of COVID-19.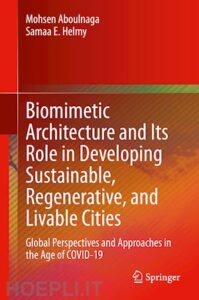 Distributed in libraries, libraries and universities around the world, the text examines the global applications of biomimetics in architecture, stresses the importance of biomimicry in promoting liveability in cities and buildings and explores the role of biomimetic architecture in climate change mitigation.
It's an international book developed by Prof. Dr. Mohsen Aboulnaga, which devotes a chapter to the Azerbaijan Pavilion of Expo 202, Dubai, a project that has involved us in integrated design, BIM from concept to executive design, (structural, architectural, plant, cost control ), building permit, project management, construction management.
Professor Dr. Mohsen Aboulnaga has more than 35 years of experience in higher education, government, senior management and consulting in sustainable development and sustainable energy, including energy efficiency and renewable energy, development of energy policies and green cities, adaptation to climate change and academic positions. He teaches at the Faculty of Engineering of the University of Cairo and is an active strategic and political advisor to the government.
With our Project Manager, the arch. Maurizio Burragato, we contributed to the drafting of the text and provided the images you will see, making thanks to a local photographer the shots published.