Getting "SMART" with Kim, CEO of SCE Project USA
My name is Carole Sourgens, I am a French architect and I began at SCE Project 2 years ago as Digital PR. Paradoxically, I have experienced that the current situation brings the occasion to get closer to the people I am working with. I get to have longer conversations with our international collaborators, with my colleagues usually unavailable because involved in meetings out of the office or on-site. I know what they do but do I know how they do it and who they are? Today I'll report a conversation with fascinating Kim, CEO of SCE Project USA, working remotely from Los Angeles.
Kim Groves is an American architect with over 25 years of experience managing complex and unique projects for international clients and design teams.  She has an excellent reputation for cost and time management and has spent her professional life leading and managing unique design projects located worldwide. In 2017, SCE Project opened a branch office in Los Angeles, SCE Project USA, where Kim serves as Chief Executive Officer. For the last eight years, she has split her time working between Los Angeles and Milan, so working remotely is not new for Kim.  Now, however, she is collaborating with her colleagues, taking team management and coordination to another level from her house in LA.
Hi Kim, could you start by telling us

about

your career before

joining SCE Project USA?
Sure, Carole.  I graduated from the School of Architecture at California Polytechnic State University in San Luis Obispo, California in 1988.  My five-year program included one year in Florence, Italy followed by a second year as the teaching assistant and working in the office of Cristiano Toraldo di Francia.  It was during my college years that I interned at Morphosis for six months having met Thom Mayne when I held a summer job at the City of Santa Monica Planning Department.
Torn between returning to Italy or staying in Los Angeles, I decided to accept a job offer with Morphosis where I "moved through the ranks" first as a designer, project architect, and project manager.  In 2006, I was named Managing Principal and my responsibilities included overseeing business development, finances, and staffing of the Los Angeles office and general supervision of the same in the New York, China, and Paris offices.
The 20+ years I spent with Morphosis was an amazing experience, full of incredible award-winning projects such as the Emerson College Los Angeles Center and the Wayne L. Morse United States Courthouse in Eugene just to name a few.  Besides the reward of working on internationally renowned projects from design through construction, I also owe a huge amount of gratitude to the talented and wonderful colleagues with whom I collaborated and who shared in the experience of raising my two daughters, spending many evenings in the office working until late.
In 2011, we won the competition to design the ENI Exploration and Production Business Center located in San Donato Milanese, Italy. I managed our international design team in the earlier phases, and when looking to expand our local architectural team, I was introduced to Stefano and Manuela (SCE Project) by Giuseppe Amaro founder of GAe Engineering and fire engineer for the project.
It was during this time that I decided to redirect my professional career, and after a couple of years working for myself in Los Angeles, I became aware of the new Stadio Della Roma project.  Working with MEIS Architects and SCE Project, we put together a talented international design team, and we hope that the stadium, like ENI will be built in due course.
The decision to start the SCE Project USA was two-fold.  One aspect was to solidify our commitment to working with international, and specifically American clients, by being based where they are located.  The second aspect was to offer our Italian clients a local team in the USA for their American endeavors.
How did your interest in architecture first develop? Do you remember the time you thought "Ok, that's what I want to do for a living?"
Well I was born in Los Angeles and raised by my mother, a single working parent, from a family of electrical engineers and contractors.  My grandparents and mother were all hard-working, do-it-yourself people who taught me a lot of life skills including maintaining the residential properties that they built and kept up themselves.  My mother was a secretary working for three different companies, one of which was an architectural practice.  My first impression of what an architect did was based on the afternoons I would sometimes spend in the office with her.
In middle and high school, I excelled in math, drafting, and shop classes.  My middle school drafting teacher encouraged me to pursue architecture.  So, it was from these experiences that I made my decision, eventually selecting Cal Poly, San Luis Obispo.  I was also the first person in my family to attend college.
That's something! Is there someone you particularly admire? Professionally and/or ideologically?
If you are asking me to name specific architects whose work I admire, I would have to go back to the classics – Mies Van der Rohe, Frank Lloyd Wright, Oscar Niemeyer.  For someone current, Jeanne Gang interests me on both a professional and ideological level.
And what would you say have been your biggest career challenges?
The beginning of projects is always difficult – trying to jump-start the trust relationship with new clients is particularly challenging.  There are a lot of mismanaged projects and clients have every right to be leery.  But design schedules are shorter, budgets are tighter, buildings are technologically more complex, and most often projects start out with unrealistic, or at least unaligned goals.
Aligning the project objectives right from the start is probably the biggest challenge.
The second biggest challenge is maintaining that sense of teamwork and collaboration throughout the duration of the project.  Because, let's face it, if we don't finish the project with smiles on our faces, proud of what we have accomplished and enthusiastically chasing the next one, what are we all doing this for?
Because, let's face it, if we don't finish the project with smiles on our faces, proud of what we have accomplished and enthusiastically chasing the next one, what are we all doing this for?
I could not agree more! So, you bring a new, international approach towards Project Management to SCE Project, could you tell us more about the kind of services you offer

from the Los Angeles office

?
We try never to ask a design architect to make concessions, instead of striving to be the engineering office that every design architect wants to collaborate with.
In the last 10 years at Morphosis, I had the pleasure and honor to work on large, complex projects – the kind of project where you think that this must be the first time anyone worked on this exact type.  For instance, the Wayne Lyman Morse US Courthouse was one of the first federal courthouses post the Oklahoma City bombing, bringing new security performance criteria and following the new Department of Justice design guidelines.  The University of Cincinnati Rec Center was one of our first projects produced with BIM where it was Morphosis and the subcontractors who believed in the system, while others were more skeptical.
So when I joined SCE Project as a Project Manager focusing on complex developments within Italy with international teams such as the new Stadio Della Roma for AS Roma in Rome designed by American architect Dan Meis, I was able to draw from all of my past experiences and assist with specific design aspects such as developing the security strategy for the masterplan and the stadium. Considering the project needed to be designed to meet both international security standards as well as UEFA, CONI, and Italian Ministry of the Interior regulations for stadia and public facilities, this was an opportunity to actually work on a specific part of the project and not just make sure that the project remained on time and budget.
I would say that our main asset is our collaborative approach, the "relationship" that we strive to build with our design partners. We focus on ensuring our design partner clearly understands the functional requirements (i.e. waterproofing, structural, code, etc.) and that any issues encountered are resolved together, as a team, without compromising the architectural concept. As the Architect of Record, we also produce the documents necessary for obtaining all the required permit approvals, interfacing with the authorities as required.
During the Bidding Phase, we define the bidding procedures, manage the bidding process, receive, organize and verify the completeness of the bids, evaluate the value engineering proposals offered by the participating contractors, and support the Owner in writing and closing the contracts with the successful Contractor.
That's a lot to do!
While producing the technical design documents, our effort focuses on the coordination and detailed development of the architectural systems always supporting the architectural vision. This is an essential point, especially for me who spent over 20 years in a high-profile design firm bringing ambitious concepts and wanting them to be built exactly the way they were designed. We try never to ask a design architect to make concessions, instead of striving to be the engineering office that every design architect wants to collaborate with.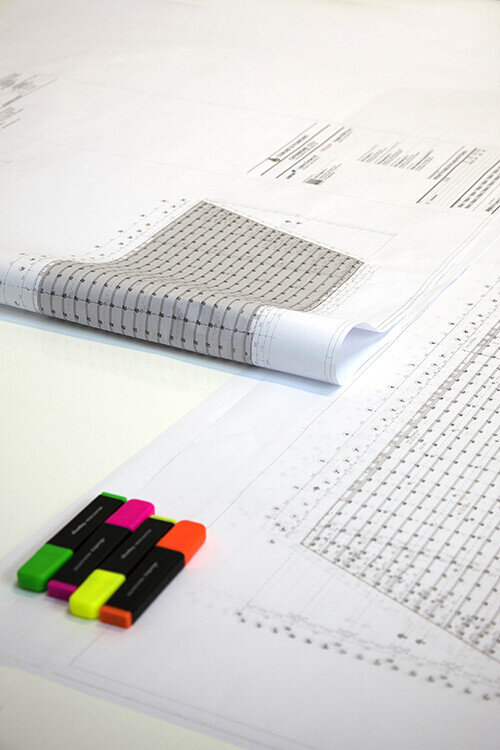 So, "No concessions; just solutions."  That would make quite a slogan wouldn't it? But is it possible?
It can be if you know how to create a meaningful collaboration with the most talented and passionate professionals in the field. For example, our Integrated Design services include the careful selection of the right specialists who will guarantee the best results. Every one of our clients and each of their projects is unique and requires different specific skills. We then work to ensure coordination based on a strong collaborative relationship built over years of previous experience.
Our in-house structural team designs, details, and coordinates the structural systems. When you work with the best engineers, the best specialists, the best consultants, you automatically come to work with the most talented architects. These are the ones who make you completely redefine the notion of "what is possible".

What would you say is the most important aspect of

Project Management

?
I would say maintaining the project on time and on budget while fulfilling and hopefully exceeding my client's expectations. These efforts must be present in every single phase of design.
And you are also involved in the construction part?
Yes, I have been fortunate to have built almost every project I have ever worked on.  As an American architect this means being involved in Construction Administration.  My experience with construction dovetails perfectly with SCE Project since we are recognized as leaders in the field of Construction Management and Construction Supervision in Italy. Our many years and diverse experience obtained working on all types and scales of projects are our key qualities.
As Construction Manager, our team provides all the construction administration activities necessary to oversee the project including budget and schedule control and construction safety.  Many of our projects foresee the design architect's presence to fulfill the role of Aesthetic Supervision.  When the design architect is present, our collaboration continues during this final phase as it is critical to the overall success of the project. Our specific tasks during the construction phase include
verifying the construction schedule;
managing the meetings, agendas, and meeting minutes;
overseeing change order requests;
verifying the shop drawings conformance with the design documents;
verifying the percentage complete and Contractors Pay Requests;
producing any variation documents needing approval by the authorities;
coordination with the authorities on-site visits;
and the overall supervision of the progress of the project.
Like our Integrated Design services, our Integrated Delivery includes specialized assistance from our structural, MEP, fire and life safety, sustainability, and acoustical consultants whose role is to maintain design continuity through the critical decisions that are made during construction. At the Handover Phase, our team, working together with the fire and life safety consultant gathers all the documents required for the Occupancy Permit.  We work together with the Contractor to support the Third-Party Verifications of the various systems. We gather all the As-Built documentation from the General Contractor and Trade Subcontractors.
When you finish a project by handing over a quality building to the owner, this is the best part of the process and the reason we love what we do.
It is indeed a great feeling… Construction sites haven't reopened yet but, as for design, basically, smart working was already a way of life for you. How does it work?
For us, this situation did not bring major changes in terms of our services to our clients.
For years, our professionals, divided among our 5 international offices, have been used to work synergistically on the same project. We have always claimed that the uniqueness of our people and our service approach provides strategic participation of each professional according to their specialty. This means that if the engineer or architect specializes in façade design for heritage preservation is located in our Milan or Ho Chi Minh City office and we need them on a project in Texas, we know how to organize the work team to make sure they can be part of it.
For the exchange of documents, files, and information, we use a collaborative digital environment that enables the collection and accessibility of shared data. The designers stock their work files in the cloud-based environment which is organized and structured in a way that allows me as Project Manager to track the progress of activities, identify roles and responsibilities, and store all the updated design information so anyone anywhere can access it.
This working method is typical of the Building Information Management (BIM) environment, allowing the most homogeneous integration of the various specialties – architectural, structural, MEP engineering, and specialty scope. Our data and information storage procedures include disaster recovery plans, daily back-up, and real-time synchronization of data among the main server in Milan and the secondary servers of the local operational offices in Rome, Asia, and of course LA.
Let's admit it, we are all a bit "nerdy" around here. Tell us more about your experience in BIM design?
I have been working in BIM for over 20 years thanks to my years at Morphosis and their inclusion of 3D modeling in the earliest years of its development.  It was through the ENI project that SCE Project began developing what is now considered our extensive experience in 3D, BIM, and Virtual Design and Construction (VDC).  We now have a high rate of successful implementations on some of the most challenging projects for progressive visionary clients around the globe.
Starting from the design phase executed entirely in BIM, the coordination between the various specialists and the embedding of information and project criteria guarantees the sharing of all the geometric, physical, and performance characteristics of the design elements. Quality control, consistency, and precision of the design documentation (spread-sheets, schedules, estimates, programming, etc.) are built into the process with automatic data extraction from a single centralized database.
The implementation of three services that, combined with the project objectives, enable to deliver cost-effective solutions in both the design and construction phases are the BIM Model Development, the Structural BIM Model Coordination, and the BIM Quantity Takeoff and Cost Estimation Assistance.
During construction, the virtual model is used to verify the compliance of the contractor's work; the compliance of the shop drawings; and the construction schedule guaranteeing quality and saving time. To summarize: BIM is the remedy against unwanted surprises that can cost money – which is bad – and the loss of design intention – which is contrary to the very reason behind why we do what we do.
The situation we are experiencing invites us to reflect on the importance that this digital instrument will take in the future – not only in terms of design optimization but especially for strategical pre-analysis of building energy efficiency and environmental sustainability.
To summarize: BIM is the remedy against unwanted surprises that can cost money – which is bad – and the loss of design intention – which is contrary to the very reason behind why we do what we do.
Then come back to you and talk about the future: what would you wish the world to be post-Covid? What are the changes you would like to see?
I hope we as a people will be more respectful of each other and recognize the benefits of efficient collaboration.  Considering it will be a long time before things return to the way they were before (especially in terms of everyone returning to work in the office together), I hope we learn to accept teams that are configured to respond to personal needs – maybe this means that some people work from home one or more days a week.
Maybe we can reconfigure our offices to have fewer individual desks and more collaboration spaces.  Maybe we can recognize what a distraction our phones can be to our workflow, and how important it is that we find a balance to our lives.  Hopefully we recognize the critical role communication plays to us as professionals and as humans.  And most importantly, I hope we recognize that our actions have a major impact on the world, the environment, and our communities. 
We don't need to wait for an epidemic to discuss what we can and should do to make the world a better, more beautiful place, recognizing that our years are limited and that our decisions today have a direct impact on what kind of life we are leaving for our children and the next generations to come.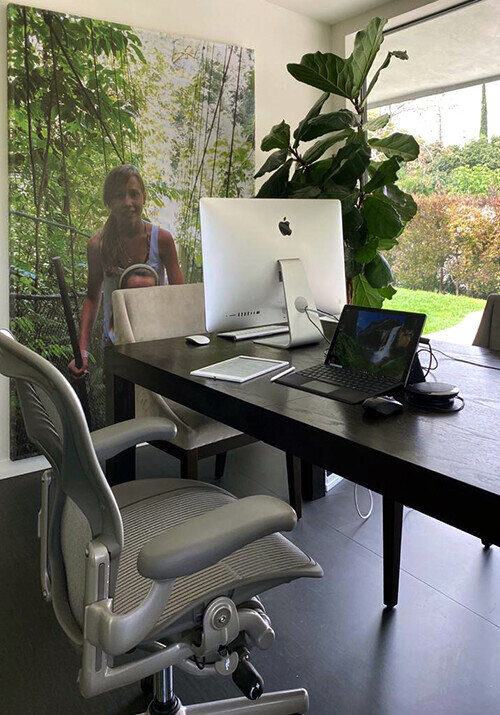 Kim Smart Working station in LA